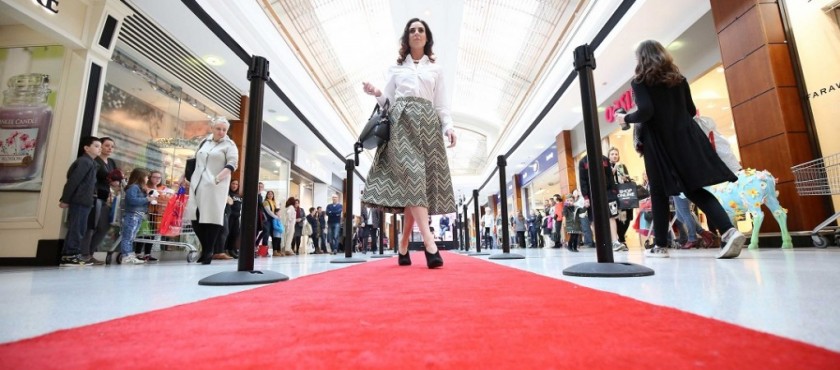 Stuck In The Middle With you
I have a new fashion crush. Actually born out of my Forestside Stylist Secrets show! It's the midi hemline. I'm all about the ankle right now. Midi has been around for the last few seasons but to be honest I had never forayed into that particular length as I'm more mini than midi, being only 5ft 1 (and a half). After putting together the looks for the models for the shows I thought that if I was gonna stand there and preach about style, I better do so stylishly. One of the main points of my personal style talks was that you should always be comfortable in your clothes-
'Have you tried to look confident in ill-fitting or badly chosen clothes? It's very difficult! We've all either seen or been the girl at the party who is conscious of her short skirt, and spends the night tugging at her hemline.' Why Is Style Important?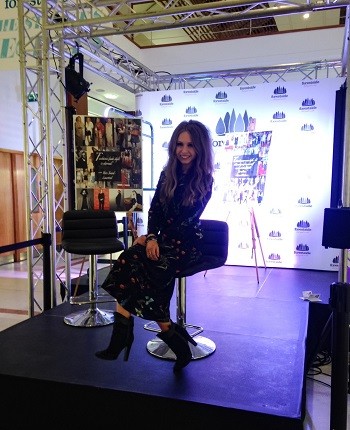 I didn't want to be that girl!!! As I was going to be on a stage, moving around, chatting AND popping backstage to check on and fix model's outfits I needed something cool but comfortable, something I didn't have to adjust or even think about to be honest. For the first evening of the show I grabbed a fab dress from Warehouse- black, floral print, nicely waisted with neat long sleeves in a lightweight, hardwearing fabric. I wore it on a shoot last week and four of the girls asked where it was from and everyone complimented it. A similar style is still available in store.
For the second day I went for that classic Bardot look with a full black midi skirt (similar from Warehouse) and a cold shoulder top from H&M. Comfortable but chic and practical, as I didn't flash even a peek of underwear when model Daniel picked me up and swung me around on stage. Bonus practicality points and bad model behaviour right there. I can safely say a midi is my go-to piece now if I am working but visible (if I'm behind the camera I'm still a scruff). On a recent video shoot for Ikea I paired this leather wrap skirt from M&S with a black print tee. Rock n roll but smart.
So should you consider a midi? Almost certainly. I've been spending a lot of time in Belfast and Dublin recently and the midi is a great option for summer in the city. Up here on the coast I would usually opt for floaty maxi or mini but it doesn't really translate to city/work life. Like every new silhouette and trend, there are a couple of things to bear in mind…
MIDI STYLE TIPS
A midi can finish anywhere from below the knee to just above the ankle. Play around to find the length that is most flattering for you. In general, avoid cutting your leg at the widest part.
A midi can sometimes appear frumpy.  Avoid this by doing the high/low mix. This generally means bringing something a bit rough and ready/ rock n roll/ casual into a prim outfit. That could be a leather or denim jacket (see Olivia Palmero), a sports inspired tee or sweatshirt (see Poppy Delevingne) or a simple white shirt.
It's all about proportion. For the most flattering silhouette, emphasise your waist. Tuck tops into skirts, belt skirts and dresses (see Chiara Ferragni), tie shirts and blouses to show a sliver of midriff (see Kiera Knightley) and finish off with a cropped jacket- try a bomber.
The midi works for all body shapes, just make sure you pick the right design. Boyish shapes should opt for pleats to add curves. Hourglass should try a pencil. Pear shapes go for a fuller prom skirt, as should apples, but make sure it sits on the slimmest pair of your torso.
Lots of magazines will tell you to avoid wearing your midi with flats but I don't think that's necessary. Obviously, heels are usually a more flattering option, but not always the practical one. If you need to go for flats, elongate your leg by going for a bare foot look, either in a nude shade (see Rosie H-W) or barely there sandals (Kiera Knightley). Another look I love is that very 90s Kate Moss thing of teaming a midi slip dress with trainers. Karlie Kloss is also a fan of this look. If you do go for heels, I'd opt for something quite chunky, 70s inspired. Check out Next and H&M for cool wooden sandals and mules.
Remember, midi isn't limited to skirts and dresses, there are some fab culottes and cropped trousers currently about. I love these tailored dungarees from Savida at Dunnes.
A couple of final points...no tights! Bare legs only. It's all about the lower leg and feet, so make sure your skin looks fab- tanned and glossy. Have fun and enjoy the sun!!