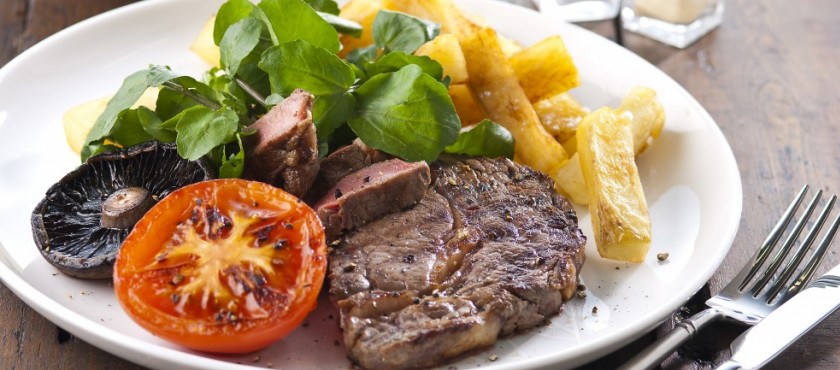 Chef Stephen Jeffers: Perfect Steak and Chips.
Hi guys welcome to my first blog....
Question: What is the perfect steak & chips ?
As I've been cooking for many years it's an easy answer, you start with the best ingredients, then after that it is a little skill and simply letting your wonderful produce shine...
So which steak ?
Rump, fillet, sirloin or ribeye? All of the above work well but my favourite is the ribeye, simply because of the lovely marbling of fat that runs through the steak. This creates a fantastic flavour through your steak, yes fat can be good for you lol ;)
Which potato & cooking oil ?
Maris pipers, Rooster, King Edwards? Again all work, but for me a rooster potato never fails me all year round, the beautiful red flesh looks great with the skin left on and always has a yummy crisp finish, topped with brilliant Maldon salt..
Is the oil important? My favourite is beef dripping or pork dripping, this gives the chip a real depth of flavour & marries with the beef fat flavour. Some butchers are starting to carry this product again so just search around..(butchers in smithfield have it).
Which garnish ?
Easy, large breakfast/Portabello mushroom, beefsteak tomato, watercress (not mustards cress).
All you've got to do now is go shopping, get yourself a really good non-stick frying pan and treat your loved ones to my recipe below...
Perfect steak & chips
1 rib eye steak (250g)
1 large rooster potato (chipped)
1/2 beef tomato
1 large breakfast mushroom
watercress
Method steak
1. Leave beef out of fridge for 1/2 hour before cooking, season beef on both sides with Maldon salt & black pepper (milled) 2. Place a pan on high heat, brush beef with oil & cook 2 minutes each side (rare),
3 minutes (med-rare), 4 minutes(medium)
3. Now rest beef for two minutes before serving.
Method chips
1. Blanch chips in salted hot water for 4 minutes & refresh in ice cold water. Now dry chips.
2. Heat a chip pan with beef dripping or pork fat to 170c, now fry dry chips until golden, crisp & season with Maldon salt.
Method tomato 
1. Season tomato with caster sugar, salt, pepper & thyme .
2. Place under high grill until caramelised this should take four minutes.
Method mushroom
Stuffing for mushroom
1 tbsp soft breadcrumbs
1 tsp Parmesan grated
10g button mushrooms (finely chopped)
Tarragon
1 shallot (grated)
1 clove garlic (grated)
2 tsp truffle oil
Method
1. Peel breakfast mushroom & drizzle with half the oil.
2. In a small pot make the filling for the mushroom, add shallot & garlic over a medium heat cook until soft, now add breadcrumbs & chopped mushrooms.
3. Season well, add tarragon, oil & fill inside of mushroom .
4. Top with Parmesan & bake for 10-12 minutes 190c