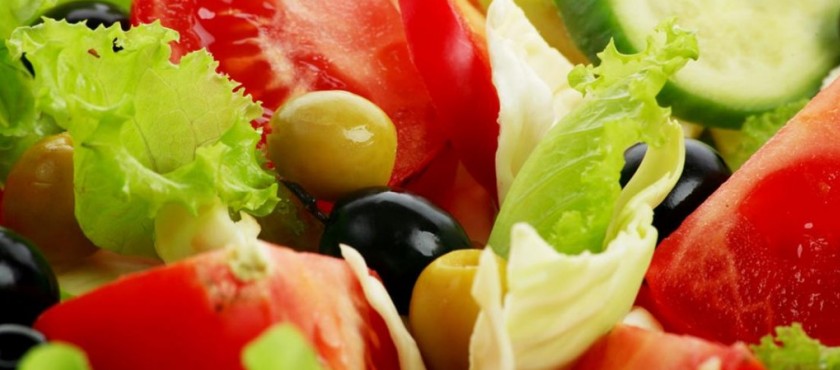 Tastes of Summer.
If the downturn in the weather has left you pining for sunshine and barbeques, fear not. We have rounded up some summertime recipes that will whisk you back to long sunny evenings and al fresco dining. They can be cooked indoors but are still bursting with flavours from the mediterranean and beyond.
Barbecue-style chicken with tabbouleh
Serves: 4 Preparation time:  20 minutes Cooking time:  1 hour Cooling time: 1 hour (marinating)
2 lemons, zest and juice
4 garlic cloves, crushed
3 tablespoons olive oil
1.05kg pack chicken legs or chicken drumsticks
200g bulgar  wheat
28g pack fresh flat leaf parsley, leaves picked and roughly chopped
28g pack mint, leaves picked and roughly chopped
335g pack cherry tomatoes, quartered
1 red onion, peeled and finely diced
1 teaspoon English mustard
1 teaspoon runny honey
225g pack flat breads
In a large non-metallic dish, mix the zest and juice of 1 of the lemons with the garlic and 1½ tablespoons of oil. Add the chicken and mix to coat. Cover with cling film and marinate in the fridge for at least 1 hour.
Meanwhile, put the bulgar wheat in a large pan, pour over 650ml boiling water and simmer, covered, over a low heat for 15 minutes, until the liquid has absorbed.
Remove from the heat and let stand for 5 minutes. Stir through the herbs, tomatoes, and onion.
In a small bowl, whisk together the remaining oil with the juice and zest of the remaining lemon and the mustard and honey, then toss through the tabbouleh. Season with freshly ground black pepper and cover until needed.
Preheat the oven to 200°C, fan 180°C, gas mark 6. Cook the chicken in the oven for 40-45 minutes, until cooked through with no pink remaining.
If you like, you can then transfer the chicken to a hot barbecue or griddle pan and sear on both sides for a few minutes. 
Warm the flatbreads either on the barbecue or griddle pan for a few minutes either side, or in the oven to pack instructions. Serve with the chicken and the tabbouleh salad.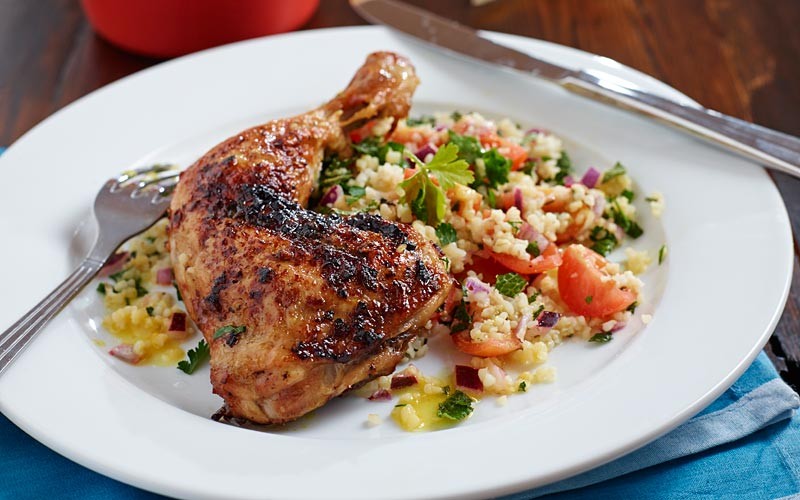 Potato and cheese fritters
Serves 4
2 eggs 
1x red onion, finely chopped
50g grated mature cheddar
6-8 medium sized cooked potatoes, skin left on, crushed
1 tbsp fresh chopped parsley
25g plain flour
Salt and pepper
Vegetable oil
1.       Place the potatoes, cheese, chopped red onion and flour into a medium sized mixing bowl.
2.       Add the eggs and mix well.
4.       Finally add the chopped parsley.
5.       Heat a large pan and add enough vegetable oil to cover the base of the pan. Place heaped tablespoonfuls of the potato mixture into the very hot oil, being careful as it may splatter, and cook each fritter for 2 minutes on each side until golden and crispy, drain onto kitchen paper.
6.       Delicious served with fresh salsa or reduced salt tomato ketchup.
Easy Salsa: Simply chop approximately 16 cherry tomatoes and add 1/2 finely chopped red onion, 1 finely chopped clove of garlic (optional), a squeeze of fresh lemon juice or white wine vinegar and 1 tablespoon extra virgin olive oil, season well with salt and freshly ground black pepper.
COOKS TIPS: For a tasty twist, add 2-3 chopped spring onions instead of red onion, or add 1 teaspoon curry powder to the mixture for extra flavour. Try making the fritters from other leftover vegetables and choose from sweet potato, carrot, parsnip, broccoli or spinach.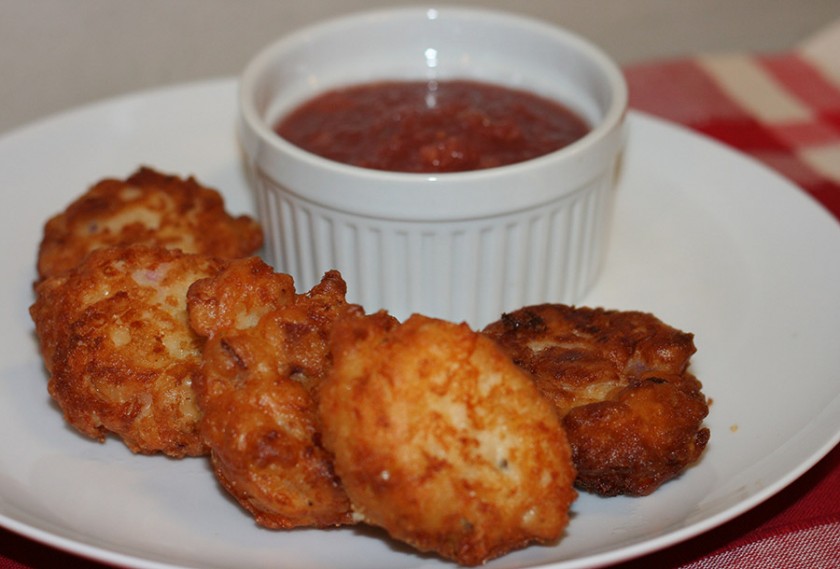 Strawberry shortcake
Serves: 8
Preparation time: 10 Minutes
Cooking time: 60 Minutes
175g  butter, softened
75g  caster sugar
175g  self raising flour
Pinch of salt
75g ground rice or cornflour
200ml double cream, lightly whipped
250g strawberries, washed, hulled and halved
2 tablespoons strawberry conserve
Preheat the oven to 150°C, 300°F, gas mark 2. Beat the softened butter and sugar together in a large bowl and incorporate the flour salt and ground rice until a soft dough is formed. This mixture should leave the sides of the bowl. On a floured surface, roll out the dough until large enough to cover the base of a 20.5cm shallow flan dish or cake tin.
Carefully transfer into the flan dish or cake tin and press gently into the base. Prick the base liberally with a fork. Bake in the oven for 1 hour - 1 hour 10 minutes, until pale golden brown. Whilst still hot, mark out the wedges with a sharp knife.  (Alternatively stamp the dough into rounds with a pastry cutter, prick each round and bake as above until pale golden on a baking sheet.)
When the shortcake is cold, lift out the wedges, spread with cream and decorate with strawberries. Heat the strawberry conserve in a small saucepan until boiling, then using a pastry brush, brush over the strawberries to give them a glazed finish.
If you have made rounds of shortbread, then fill as above and top with a second shortcake if you wish.