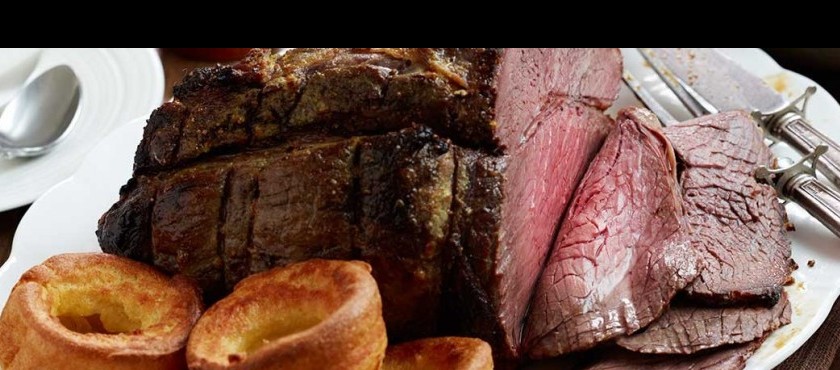 Make your roast go further.
On Thursday 30th January, the Sainsbury's Taste Team will make a welcome return to Forestside as part of the 'Make your roast go further' campaign. The campaign is focused around making your Sunday roast last up to three days and making the most of your food to manage tight budgets in the weeks after Christmas. The campaign features 'real' people instead of celebrity chefs in a response to customer feedback which has highlighted the grass roots approach; that customers identify more with everyday people with families and real limitations.
Sarah Warby, Marketing Director at Sainsbury's, said: "In the current economic environment we're all less interested in the ideas of celebrity chefs. We're looking more for help and inspiration from people you can really relate to and practical, achievable ideas for food your kids will actually eat. January's a good time for us all to remind ourselves how to waste less and love our leftovers."
The dishes featured in Forestside will be 'Spiced Pork Noodles' and 'Moroccan Lamb with chickpeas spiced rice,' and Sainsbury's will run a half price promotion on Lamb and Pork shoulder roasts from 29th January-11th February to support the campaign.
Arlene from Sainsbury's Taste Team will be with us from 11-5 on Thursday 30th January.

Spiced Pork Noodles
 1 tbsp sunflower oil by Sainsbury's
1 red onion, finely sliced
1 red pepper, deseeded and finely sliced
½ x 200g pack shredded kale by Sainsbury's
325g broccoli, broken into small florets, stalk thinly sliced
2 tsp five spice paste by Sainsbury's
2 tbsp light soy sauce by Sainsbury's
300g leftover roast pork, shredded
410g pack egg noodles by Sainsbury's
½ x 31g pack fresh coriander by Sainsbury's, washed, leaves picked and    roughly chopped
1.       Heat the oil in a large wok or frying pan, add the onion and pepper and stir-fry for 5 minutes. Add the kale, broccoli and 2 tablespoons water, and stir-fry for a further 2-3 minutes until the veg is just tender. Add the spice paste, soy sauce and pork, and stir-fry for 1-2 minutes until piping hot.
2.       Add the noodles and 2 tablespoons water. Stir-fry for 2-3 minutes until heated through. Serve garnished with the coriander.
 This recipe provides 2 of your 5 a day.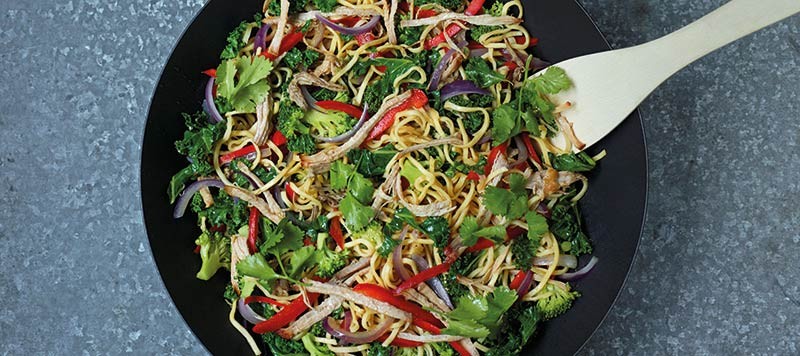 Moroccan lamb with chickpea spiced rice
Serves: 4     Prep time: 10 Minutes    Cook time: 25 Minutes
 1 tablespoon olive oil by Sainsbury's
1 onion, finely chopped
2 cloves garlic, chopped
1 tablespoon ras el hanout by Sainsbury's
100g dried apricots by Sainsbury's, roughly chopped
2 x 400g tins chickpeas in water by Sainsbury's, drained and rinsed
250g long grain white rice by Sainsbury's
600ml lamb stock, made with 1 lamb stock cube
300g leftover roast lamb, shredded
¼ 28g pack fresh flat-leaf parsley, washed and chopped
2 courgettes, washed, trimmed and peeled into ribbons using a vegetable peeler
100g tub pomegranate seeds by Sainsbury's
 1.    Heat the oil in a deep pan, then add the onion and cook for 5 minutes, adding the garlic and ras el hanout for the final minute. Stir in the apricots, chickpeas and rice and cook for a further minute.
2.    Add the stock and bring to the boil, then turn down the heat and simmer, covered, for 12-15 minutes. Add the lamb to the pan for the final 5 minutes, until piping hot. Stir through half the parsley and season with freshly ground black pepper.
3.    Meanwhile, griddle the courgette ribbons on a hot griddle pan for 1-2 minutes on each side until lightly charred, then stir through the rice just before serving. Toss through the pomegranate seeds and serve garnished with the remaining parsley.
 Top tip: If you don't have leftover roast lamb, you could grill lamb steaks or chops and serve on top of the rice.
 Feeling inspired?
We've got loads of great recipes to try out – find them at sainsburys.co.uk/livewellforless
Based on price perception data, you can live well for less than you thought at Sainsbury's. For more information go to sainsbuys.co.uk/livewellforless