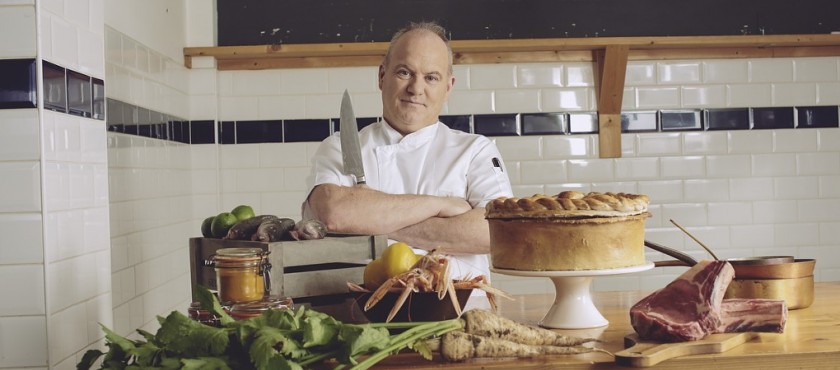 Fantastic Irish Beef
Hi Forestside folk,
As this month we are celebrating fantastic Irish beef with NITB Year of Food #lovenimeat I thought it would be fitting for me to celebrate this with a few of my very favourite beef recipes from over the years cooking our wonderful local beef. The first recipe I'm going to give you is a old favourite from one of my past eating houses using one of the cheaper cuts of beef which we call the Jacobs ladder or beef short rib. This is a cut of beef which needs cooking at a very low temp for a long period of time. The second dish which I'll give you is using up cuts of beef from your butcher counter like strips of rump, sirloin etc. the more tender cuts of beef. This is a fantastic Thai style curry to die for and last but not least, my Italian take on steak and chips using Peter Hannan's award winning beef. I hope you enjoy these super easy recipes from myself and they will encourage you to cook more at home over the next few weeks.
Five Hour Beef
Serves 4-6
Ingredients
2kg short ribs, 2 medium onions, 2 cloves of garlic, 2 celery sticks, 1 carrot, 330ml red wine, 2 litres beef stock, fresh thyme, 6 black peppercorns, 1 bay leaf
Method
Brown ribs on both sides, remove from casserole pot. In the pot, reduce red wine by half. Add the carrot, onoin, celery and thyme. Cover with beef stock and reduce until sauce thickens, pass through a fine sieve. Serve with beetroot and horseradish mash.
Ingredients / Roasted Beetroot
4 large beetroots, 2 tbsp olive oil, 2 tbsp red wine vinegar, small bunch of thyme, 2 tsp caster sugar
Method / Roasted Beetroot
Peel beetroot and cut into rounds with a pastry cutter and trim. Toss beetroot in oil and thyme. Roast on a tray in oven for 40-45 minutes at 190c until soft. Sprinkle with caster sugar and vinegar and cook for a further 5 minutes. 
Ingredients / Horseradish Mash
900g Maris Piper potatoes, 100 ml milk, 3 tbsp creamed horseradish, salt white pepper.
Method / Horseradish Mash
Peel and dice potatoes into evenly sized chunks. Boil and simmer in salted water for 20 minutes until soft. Drain potatoes and return to pan for a few minutes to dry. Pass potato through a fine sieve or Mouli onto milk, then add horseradish and beat well with a spoon. Heat well and season.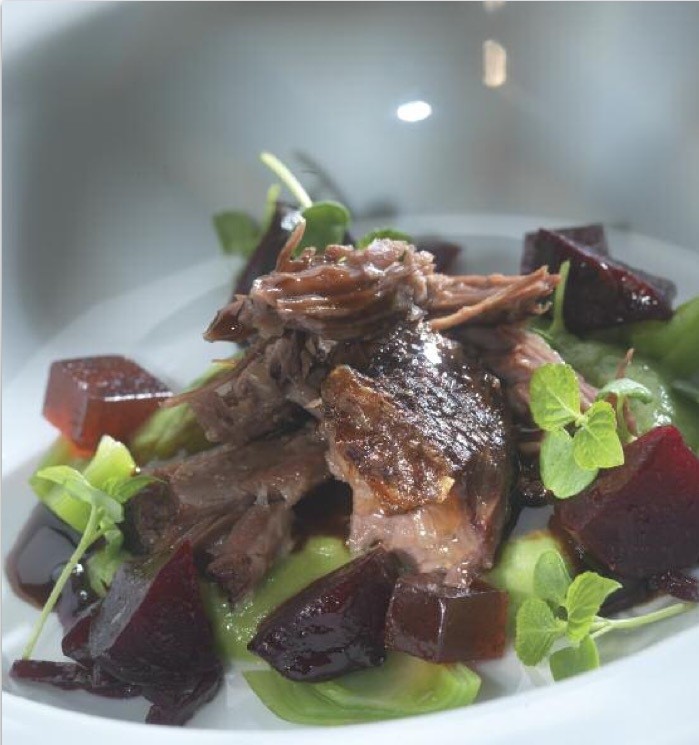 Orange Spiced Crispy Beef Curry
Ingredients
100g beef rump strips tossed in corn flour, 1/2 red onion (diced), 1/2 red chilli (finely diced), 1/4 sweet potato (diced), 15g fine green beans (blanched), 1/2 red pepper (diced), 1 tsp Penang paste, 50ml coconut milk, 20g cooked chickpeas, 1/2 orange (zest and juice).
50g green beans (blanched & refreshed), 30ml beef stock, 1/4 tsp of Fish sauce, small bunch of coriander, small bunch of basil, pinch of sugar.
Method
In a small pot add onions, potatoes, red chilli, fine green beans and sauté for 5 minutes.
Add the curry paste & cook for a further 2 minutes.
Add the red pepper, chickpeas, beef stock, orange juice & zest and coconut milk. Bring to the boil. Now simmer for 12 minutes.
Finish with deep fried crispy beef, green beans, fish sauce, sugar, coriander and basil.
Rump Steak, Salsa Verde & chilli polenta chips
1 rump steak (140g) dry aged 35+ days
Method
Leave beef out of the fridge for 1/2 hour before cooking, season beef on both sides with Maldon salt & black pepper (milled).
Place pan on a high heat, brush beef with oil and cook for 2 minutes each side (rare), 3 minutes (med-rare), 4 minutes (medium). 
Now rest the beef for two minutes before serving.
Salsa Verde
Ingredients
small bunch of parsley, mint & basil, 1 shallot ( finely diced), 1 tbsp of red wine vinegar, 2 anchovy fillets (minced), 1 tbsp fine capers (washed), 75ml olive oil.
Method
Soak the shallots in red wine vinegar for 30 minutes.
Now add chopped herbs, capers & anchovies.
Slowly add olive oil and lightly season.
Olive & Polenta Chips
Ingredients
50g instant polenta, 250 ml chicken stock, 1 tbsp pitted black olives, 10g Parmesan cheese.
Method
Place stock into a saucepan and bring to boil.
Gently add in polenta and whisk well.
Now add olives & cheese and season with salt & pepper.
Cook out on a low heat for 5 minutes.
Place onto a nonstick baking sheet and set until cool.
Cut into chips and brush with olive oil.
Bake in the oven at 200c until crisp.
Season with chilli flakes.