Chef Jeffers' Perfect Easter Recipes.
Hi guys,
Hope you're all good and cooking some of my simple, super recipes from my latest blogs at Forestside.
My last blog was about Spring and available ingredients within these fantastic 3 months ahead, I want to give you more recipes to add to your little recipe box…everyone should have one!
 I'm speaking briefly about our pop up kitchen at Forestside. As you may or may not know, we ran a fantastic Valentine's event and we have been brain storming about how we can use this Parkerhouse kitchen more and have come up with the some fantastic ideas.
I'm going to be running a serious of events coming soon starting with a series of one hour 'They Shop, You Learn' cookery demos/tasting sessions. Ticket price from Forestside 02890 494996.
You can also hire our Parkerhouse pop up kitchen for your own events, it may be a church group, work group, team building event or maybe a bunch of friends who just want to sit around the Chef's table and eat and learn. Again check by phoning 0289 494996 or email me at stephenjffrs@yahoo.co.uk
We have another huge foodie event coming soon but you'll have to watch this space for details.
So here goes with my recipes for you. Hope to see you at our Parkerhouse kitchen.
 Perfect soup for Spring ...
 Pea, pecorino & watercress soup
(Serves 4)
2 shallots (diced)
1clove of garlic (grated)
300g frozen peas
450ml vegetable stock (Marigold)
100ml sour cream
1 small bunch of Watercress
salt & pepper
10g pecorino (grated)
Method...
1. In a pot add a little rapeseed oil. Now add garlic and shallots, cook
until soft, no colour.
2. Now add peas, cook for 3 minutes. Add stock, bring to boil and simmer
for 3 - 4 minutes.
3. Add half of the watercress and half sour cream. Season and blend
until smooth.
4. Heat gently. Garnish with sour cream, watercress & top with pecorino.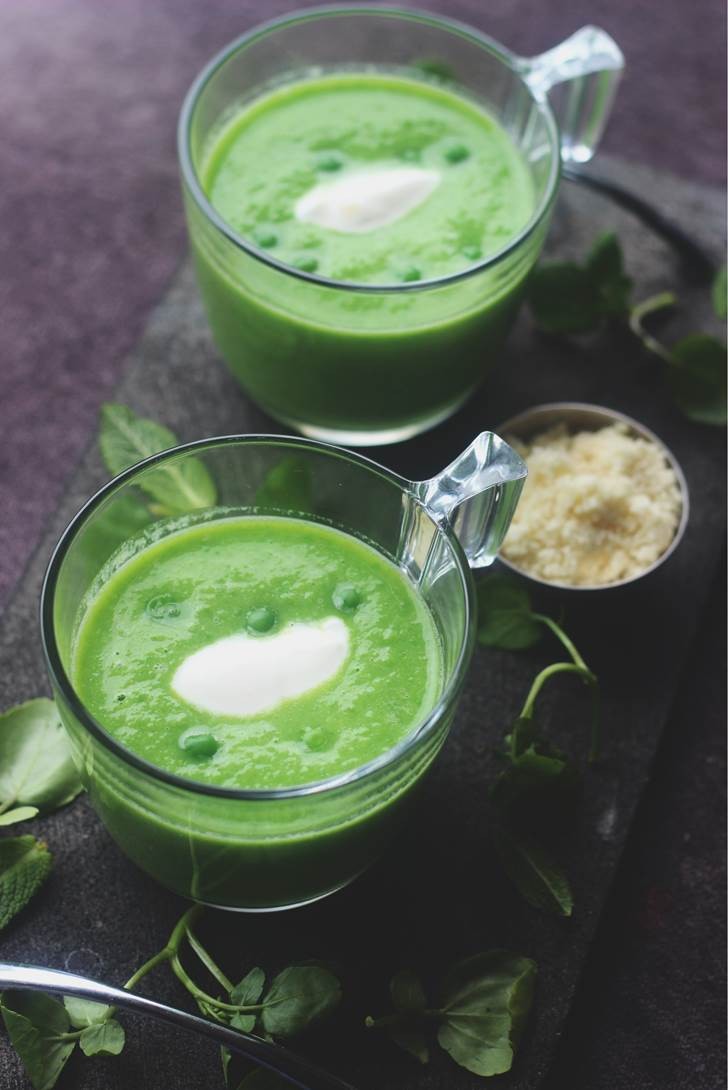 Chargrilled lamb (Tuscan style) char grilled vegetables, broccoli & pesto
(Serves 4)
2 x 150g bone in lamb steaks (marinated in garlic, olive
oil, thyme, rosemary & zest of lemon)
Method...
1. Rub marinade well into lamb and place a grill on highest setting.
2. Grill lamb steak 3 minutes each side, rest for 3 minutes before serving.
The vegetables...
1/4 aubergine (wedges)
1/2 courgette (wedges)
1 red pepper (quartered)
1/2 red onion (quartered)
2 tbsp of olive oil
1 garlic clove(grated)
1/2 lemon (zest)
Method...
1. In a large bowl mix oil, zest & garlic. Place a chargrill or marked pan on high heat.
2. Now mix all vegetables in above dressing and cook each vegetable type separately, leave in a warm oven and season well.
3. Drizzle plenty of pesto over vegetables.
Pesto...
50g broccoli (steamed )
small bunch of Basil
1 clove of garlic
1/2 tbsp of walnuts (toasted)
10g pecorino (grated)
140ml Olive oil
salt & pepper
1. Steam broccoli for 6 minutes, drop into ice water and dry well.
2. Chop broccoli, basil & walnuts until quite small.
3. Now add cheese, garlic & oil. Mix well.
4. Season well and keep in a cool place.
Carrot, apple & pecan cake…
50ml dry cider
100g sultanas
250ml rapeseed oil
4 eggs
300g plain flour
1 teaspoon baking powder
1 teaspoon bicarbonate of soda
pinch of table salt
350g soft dark brown sugar
50g pecan nuts (roughly chopped)
80g pumpkin seeds
75g coarsely grated (cored but unpeeled) eating apples
75g coarsely grated parsnip (skins on - wash well)
250g coarsely grated carrots (skins on – wash well)
Preheat the oven to 160°C/Gas Mark 3 and grease and line a 24–25cm springform cake tin.
Put the cider and sultanas in a small saucepan and cook over a medium heat for 5 minutes, then remove from the heat and set aside for 10 minutes to allow the sultanas to soften.
In a small bowl or jug, whisk the rapeseed oil and eggs together.
Sift the flour, baking powder, bicarbonate of soda and salt into a large mixing bowl, then stir in the brown sugar, walnuts, pumpkin seeds and grated apples, parsnips & carrots.
 Add the oil and egg mixture and the soaked sultanas and cider to the flour mixture and stir together lightly with a wooden spoon until combined.
 Transfer the mixture to the prepared tin and level the surface.
Bake in the oven for about 1 hour or until risen and deep golden brown and a skewer inserted into the centre of the cake comes out clean.
Remove from the oven and leave the cake to cool in the tin for 10 minutes, then carefully turn it out on to a wire rack and leave to cool completely.
Cream cheese/curd frosting...
100g cream cheese or curd (room temp)
50g unsalted butter (room temp)
100g icing sugar
Method...
Mix until smooth, put into piping bag and pipe over cake.
Top with roasted or candied walnuts.