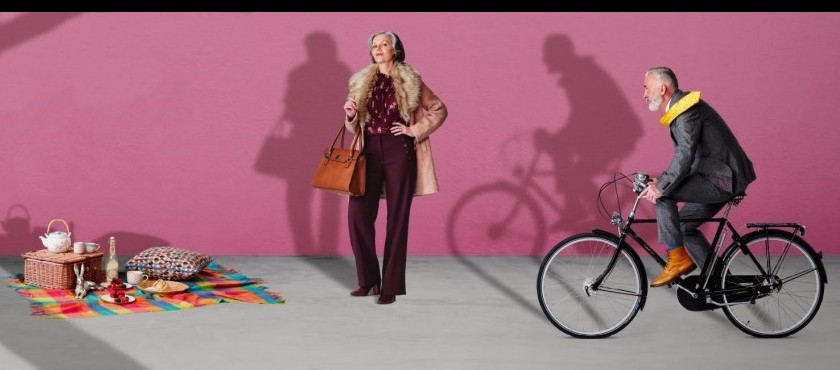 Forestside AW15 Campaign: The Shoot
By now I'm sure you've spied our gorgeous new Autumn Winter Campaign on billboards and on the mall. Inspired by the centre's name, the idea of forests, fairytales and the teddybears' picnic, our campaign was great fun to shoot. They do say never work with children or animals but luckily our canine and littlest models- Monty the Great Dane and Evie- were on their best behavior and that old warning proved untrue.
As the shoot stylist, the great things about this campaign was with so many diverse models I got to play with different trends: womenswear, menswear, kidswear and homeware, bringing in lots of autumnal colours and textures.
Colour is so important in the colder, darker months. We've been super lucky with autumn so far- blue skies, fiery leaves and the weather has been so mild that gardens are still in bloom, means there's loads of colour about, but in the next few weeks the likelihood is everything will become a bit greyer. Instead of donning dark winter layers, it's lovely to wrap up in rich hues and pops of colour. This season, rich autumnal colours are everywhere- I used these in cool and warm options, depending on the model.
On Denise I used cool berry tones, which flatter her great steely hair and youthful porcelain complexion. Wearing one colour top to toe like this is very flattering and enlongates the silhouette. I love this feminine bohemian blouse from Marks and Spencers- very Biba-esque with its softly gathered sleeves and pussy bow neckline. The wide leg trousers with button detail are very elegant in that Katherine Hepburn swaggering kinda way. I paired these with a gorgeous neutral tone camel coat with great texture detail, cosy wool with a faux fur colour from the Savida range at Dunnes. This also comes in a deep berry with a dark collar.
On Rebecca I opted for warm rust tones paired with blue denim. This coat from Monsoon is one of my favourite high street pieces of the season, the belted kimono shape and Aztec pattern are gorgeous. In winter, your coat is the one item of clothing that's guaranteed to be seen, so make sure it's worth looking at!!
Colour is equally important in menswear. With Gary I opted for bright colour pops against a neutral background, in this case a gorgeous heritage herringbone tweed three piece suit. Tweed is such a great option for this time of the year, I carried it through to Stephen's blazer as well, in a rich blue. High street menswear has come on in leaps and bounds over the last few years, and with menswear it's the little details that count- the lining of a jacket, a pocket square, a flash of bright sock, a cool tie or cravat- check out Marks and Spencer and Next for some great options.
Little Evie was our fab kidswear model, and although she did inform me that she is a goth, I think she rocks the pastel shades pretty well! Her gorgeous little coat is from Monsoon. So many children's coats these days are the puffy, quilted kind and although I imagine they are a much more practical option than pale blue wool, I think this coat is pretty adorable for special occasions.
Regular readers of the blog know that I'm a big fan of Carolyn Donnelly Eclectic at Dunnes, so I was delighted to be able to integrate it into the shoot. The new line in this range is 'Eclectic Meadow', pieces with a simple, clean Scandinavian pattern in unfussy shapes and bamboo detailing.
With accessories, I went for tan leather across the board. Denise's Marks and Spencer handbag is a classic and expensive looking style. I waxed lyrical about Rebecca's boots in last month's blog and Gary and Stephen's brogue and Chelsea boots will take you from country walks into the city.